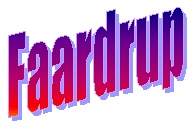 Denmark consists of lots of islands. Many of these are nowadays connected by bridges. Not considering Greenland and the Faeroe Islands, the biggest island is "Sjælland" on which Copenhagen (København) is located. Copenhagen lies to the east on Sjælland, Faardrup lies to the south-west, halfway between Slagelse and Skælskør.
Administratively, Denmark is split into "amter" (counties) and kommuner (district councils). Faardrup lies in "Hashøj kommune" which is one of several district councils in "Vestsjællands amt".
My guesstimate is that Faardrup has about 150 human inhabitants. I believe two or three of the farms have pigs. Finally there's the usual assortment of dogs, cats and mice. There are no shops in Faardrup, but there is a maildrop.
The sights of Faardrup
Faardrup has a typical Danish medieval village church from the 12'th century.
"Hjemmeværnet" have their own building in Faardrup. Hjemmevaernet is a cross between the Territorial Army of the UK, the National Guard of the USA and the Swiss Army. Members of hjemmevaernet have their machine guns stored in their homes. There is an ordinary standing army in Denmark as well.
A huge playground (well, its huge when you consider the size of Faardrup).
Just south of Faardrup (500 meters from my house in fact) are 5 wind turbines connected to the electricity grid. Maybe this shouldn't really be considered one of Faardrups sights since the area, not just around Faardrup, is full of wind turbines.
Leaving Faardrup by the road leading west, to the right you will be able to see the towers of the "Great Belt" bridge (Storebælts broen) which links Sjælland and Fyn.
The headquarters of "Nelson Associates".
---
Last modified: 25. August 1998